What is NovaPoint?
NovaPoint is a proprietary Software as a Subscription (SaaS) cloud-based application that has been custom developed to Innova's specifications. The source of truth for all things relevant to your indirect material transactions and assets. Through NovaPoint we provide our clients with improved transparency to all transactions we process as an agent acting on your behalf.
What Does NovaPoint Do?
You control user access and permissions. With NovaPoint, we are both operating on exactly the same platform for all transactions of indirect materials. Extract the data in NovaPoint for your ERP system at the frequency you need.
Inventory management
Requisitions and approvals
Asset tracking
Maintenance planning/scheduling
Reporting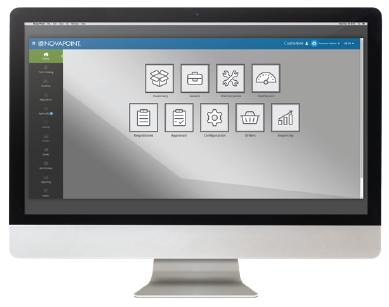 What It Is
The source of truth for all indirect material transactions.
An all-inclusive system that bridges all aspects of the program, from onsite operations, procurement services and payment processing.
A systematic approach to provide the tools needed to conduct all processes, from order triggering to invoicing, all in a single solution.
Increased visibility to requisitions, purchase orders, supplier pricing, receipts, invoicing and more.
Bottom Line
NovaPoint is a complete inventory procurement, asset and maintenance management solution.
Inventory:

 

View and maintain inventory by location, track usage activity with custom data capture points (GL code, work order, etc.).
Request for Quotation:

 

Capability to request quotations on product requirements.
Requisitions:

 

Users can request in-stock items, add new parts, or shop using punchout. All working through your approval workflow.
Procurement:

 

From auto-replenishment (via min/max) to spot buys – a robust solution to help manage your supply chain.
Assets:

 

Manage and track assets through their life cycle to provide a total cost of ownership.
Maintenance:

 

Create checklists, budget hours and forecast needs for upcoming projects.
Reporting:

 

Comprehensive reporting to identify trends and review performance metrics.
​Total Transparency
The key to successful collaboration is transparency.  The vehicle: our NovaPoint solution – providing deep, dynamic visibility into your supply chain.